The Current State Of SEO vs the Penguin and Panda Onslaught
The folks at Google must have one heck of a sick sense of humor.
Just one look at the names that they gave to the two most disruptive changes to their search engine algorithm – literally the shifts and changes that white millions and millions of websites off of the top spots in Google and relegated them to the bottom of the pile, so to speak – and you'll understand exactly why this is true.
Pandas and penguins used to conjure up images of cute and cuddly animals, friendly and fluffy stuffed animals, and the kinds of animals that you almost always saw on Saturday morning cartoons. You know, the good guys.
However, for a whole range of as SEO services and search engine optimization professionals, the last thing in the world that they associate with the terms Panda and Penguin is cute and cuddly. Those two search engine shifts and changes decimated their businesses, crippled their ability to make money, and destroyed much of the goodwill that they had created with their clients and customers.
But there is light at the end of the tunnel – if you learn exactly how to SEO moving forward from here on out, using only the very latest tools and technologies to do so – you can have your SEO services bouncing back even stronger than ever before.
You don't have to allow Panda and Penguin to beat you to your knees – here's how to fight back and win.
The first rule of making the Panda and Penguin happy is to stick to the fundamentals of search engine optimization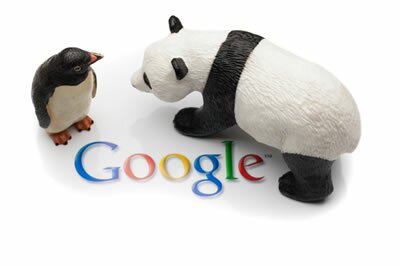 Both Google Panda and Google Penguin were specifically launched to clear the search results of poor quality content that had obviously been over optimized in an effort to artificially influence search engine rankings. Google Panda alone rolled out 25 unique updates to address horrible quality content, with a specific focus on eliminating keyword stuffed articles, duplicated content, and irrelevant information that had been included just to increase the keyword density.
This means that you're going to want to stay away from stuffing your content with keywords, shooting for "optimal" keyword density, or just generally writing throwaway style content that has no real value to your human readership.
While the algorithms are still trying to find the ultimate solution for determining whether or not content is of the highest quality or if it has been cranked out to boost search engine results only, the fact of the matter is that Google Panda and Google Penguin look to be just the first wave of updates specifically designed to tackle this problem.
Your best bet is to create relevant content that will actually help real human readers first and foremost, while at the same time being smart and judicious about the amount of keywords you include in your content creation. SEO services are no longer going to be able to shoot up the rankings by tapping into Third World outsourced article writers who pump out drivel that has been oversaturated with keywords and still produce groundbreaking results.
Major overhaul in regards to site setup and optimization
While Google Panda specifically targeted low-quality content and site optimization more so than Google Penguin (its focus was on lower quality backlinks and link building techniques), the truth of the matter is that you're going to have to almost read learn how to SEO when you are setting up your site and optimizing.
One of the major considerations that you'll need to take into account from here on out is how the Google algorithm and search spiders are going to react to high bounce rates, dubious traffic generation sources (i.e. from link exchanges), duplicate content on your site – or any other web property – and the high add to content ratio that many "money sites" have already established.
Focusing on a website that has been designed and developed for human readers first and foremost – rather than increasing your revenue streams – is going to be the best way to boost your site optimization and setup moving forward. Providing elite level content is going to keep your bounce rate low, improve user experience, and give you a better score when it comes to quality content ratings.
Has backlinking been transformed forever?
Google Penguin was created specifically to address low-quality links that had been contribute indirectly to the search engine rankings of millions and millions of sites.
With a specific focus on devaluing unnatural inbound links, a high number of site wide inbound links, aggressive and unnatural internal linking, too terribly many links from low-quality sites (as determined by the Google PageRank internal algorithm), and low-quality directory listings and article marketing, it bumped a number of websites to the bottom of the Google rankings faster than Panda was able to.
Of course, this has dramatically transformed how most SEO services approach link building from here on out – as it should.
No longer are black hat or even gray hat backlinks going to be an acceptable tool for increasing your search engine rankings. The days of pumping up a software like XRumer or SEONuke and pushing millions and millions of low quality back links directly to your web properties are gone forever.
Instead, you're going to want to focus directly on relearning SEO techniques by focusing your link building efforts on high quality back links – of a lesser amount – and only tapping into websites that have a considerable amount of reputation already built up inside of Google.
Final verdict
There are a number of significant changes that have hit the Internet because of the Google Panda and Penguin update, but like all changes they've opened up a number of unique opportunities for those serious about search engine optimization.
The other important thing you'll want to keep in mind is that Panda and Penguin are merely the first few changes in a wave of other shifts that can come at any time, making it absolutely critical that you focus on search engine optimization fundamentals rather than chasing the SEO tactic du jour.
This is the only way to protect yourself from future Panda and Penguin like changes, something that the highest level SEO services can assist you with every single step of the way.